The Ultimate SEO Guide for Home Inspectors
Would it be nice to figure out how to rank a home inspection website on the first page of Google? I'm sure if you're reading this post, you are looking for that answer.
Google uses over 200 factors to rank websites although the antispam team does not reveal the exact ranking formula. Many home inspectors think that if using some SEO tweaks is a good tactic, then using them all would be even better! But this could be a costly mistake.
Even after the most astute study and careful planning and implementation of SEO techniques, your website could still disappear from the rankings after a few months. Why? Because the antispam team is on to people who try to manipulate results, and they are constantly updating their algorithms, so that the content that lands at the top of the Google search page is nothing but quality.
Algorithm updates like Panda and Penguin changed the scope of SEO for home inspectors at the top of the list, basically overnight. After receiving a plethora of phone calls and customers, suddenly a company can be dropped entirely, a punishment for over-optimization.
As the old saying goes, "If it's worth doing, it's worth doing right." This article will give you the wherewithal to understand search engine optimization and what it can do for your business. By applying these principles, you will get more leads and ultimately more jobs, without the danger of getting kicked down the search list by new algorithms.
SUCCESSFUL SEO STEPS FOR HOME INSPECTORS
Like any process, if you want to succeed at SEO and gain new leads for your company, you should break the project into steps.
The goal of the following two steps is not only to drive more visitors to your site but also to gain more quality visitors, and ultimately, more home inspection contracts.
On-Page Optimization: The first step involves finding keywords and focusing on copywriting as well as the internal linking structure that you must create. This step also includes taking a look at the website hierarchy and solving any technical issues that may arise.
Off-Page Optimization: After you have created a stellar on-page optimization for your website, it is important to look at the off-page angle. This includes building links and using local search optimization to drive traffic and rank as high as possible in Google.
KEYWORD RESEARCH
Any good search engine optimization campaign needs to start with keyword research. Always begin with your target audience in mind, and then research which factors are influenced, such as click through rates, conversion, traffic on the site, and rankings.
Don't forget the crucial step of asking questions. If you are researching home inspection keywords, make sure to think about what consumers need, when they are searching, where they need a home inspector, and how they go about looking for one. Answers to these key questions will help you in your keyword research.
The keyword is like a road map. If you don't know what keywords people will use in a search, how will you know if the keywords they use will lead them to you? Researching this and asking quality questions will be the key to your success. Tools like Google Keyword Tool can help you with this difficult task.
SITE HIERARCHY
The way you organize your website matters more than you think, and a strong site hierarchy will help your website rank better and will lead more traffic to your website, which is critical to getting new customers. Google rewards sites that have great structure, and you will gain more SEO leverage if yours does.
Use a Theme Pyramid to make the most of your structure. Your home page serves as the top of the pyramid, and then you need to create category pages that match up with your keywords. As the pyramid goes down, the category pages get more specific in terms of content and keywords. Utilizing this structure will help you boost rankings in search results for many relevant search terms.
INTERNAL LINKING STRUCTURE
Internal links consist of any place where your website links to another place on your website. Google is getting better at recognizing links and how they are related in terms of your content. Google considers the anchor link but also the surrounding material to understand your linking structure.
Clearly you will have links on your homepage to guide your visitors. There are also contextual links that will lead them to information that will buoy their understanding of a topic. Google uses both of these types of links to investigate what value your content has.
COPYWRITING
There are several ways that copywriting can help with SEO optimization, and these can't be understated. You need strong writing to drive people to your site and to keep them coming back.
Creating a blog on your website is a great idea because it will offer a continuous flow of new content that will keep readers interested and drive people to your site. This will also augment your internal links.
Copywriting will also help improve rankings if you use the keywords in meta descriptions, titles, page links, and image tags. It goes without saying that you will use the keywords in the content as well.
TECHNICAL DETAILS
There are many technical details that can make or break your search engine optimization. You do not need to be a technical genius to do these things well, but if you pay attention to these details, you will be more likely to rank higher, therefore driving more customers to your home inspection website.
Use the Google Search Console for a New Home Inspection Website
If you just launched your new website, you will want to index it with Google as soon as possible, so they know how to categorize your website and so they display it properly. This straightforward process is best done through the Google Search Console:
Add your website to the Google Search Console, including both the version with the "www" and without.
Tell Google whether or not you use "https".
Verify your ownership of the website by uploading a file that Google sends to you.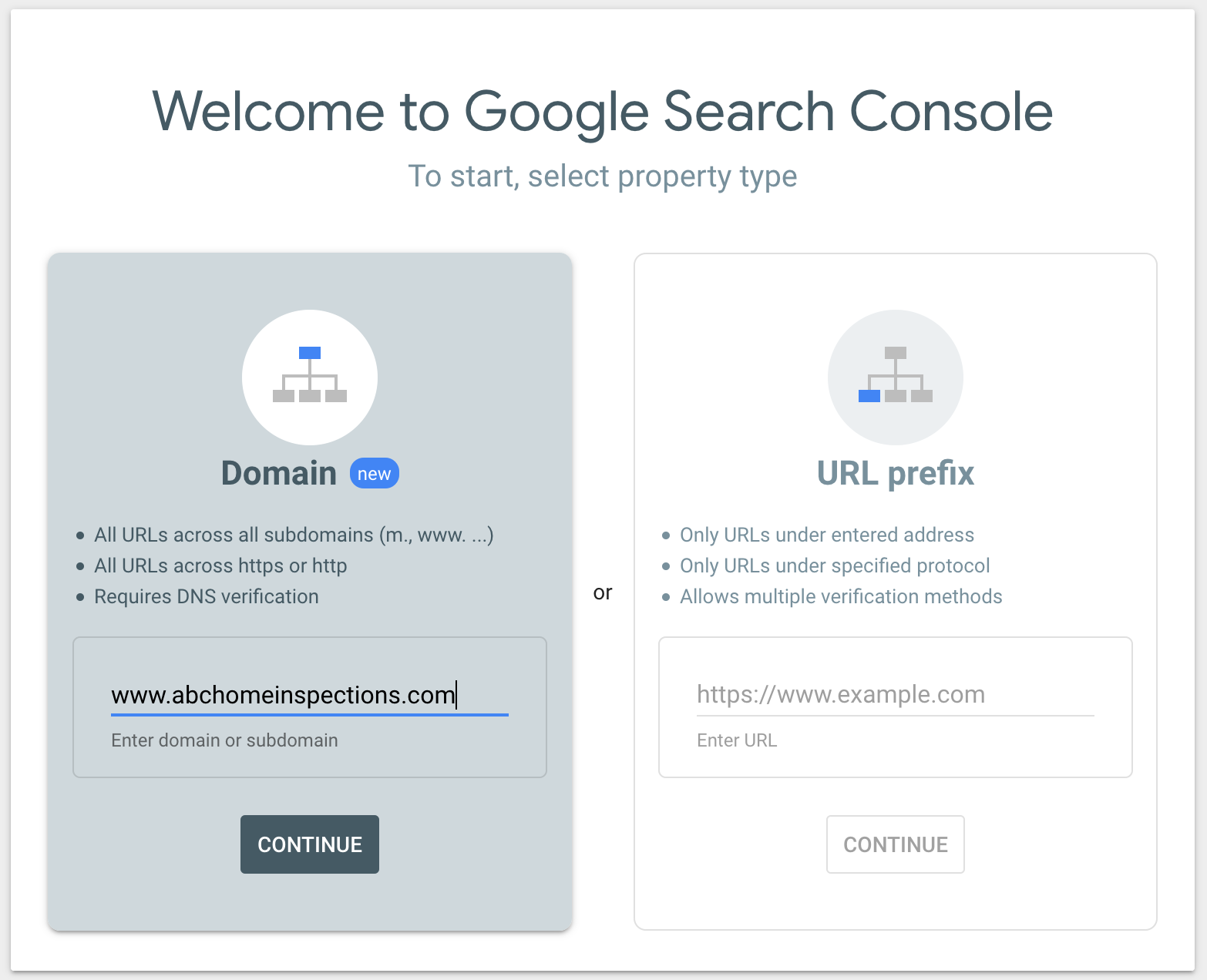 Improve Your Website Loading Speed
One of the elements by which Google will rank your home inspection website is by loading speed, so it is important that you have as much speed as possible, especially for the strong mobile rankings. The Google PageSpeed Insights Tool will help you figure this out easily. Not only can you check the speed of your website, but you can see different metrics and also find recommendations for improvement. Slow loading websites certainly aggravate the visitors, but it also affects your SEO performance. The image below shows a very poor website loading speed.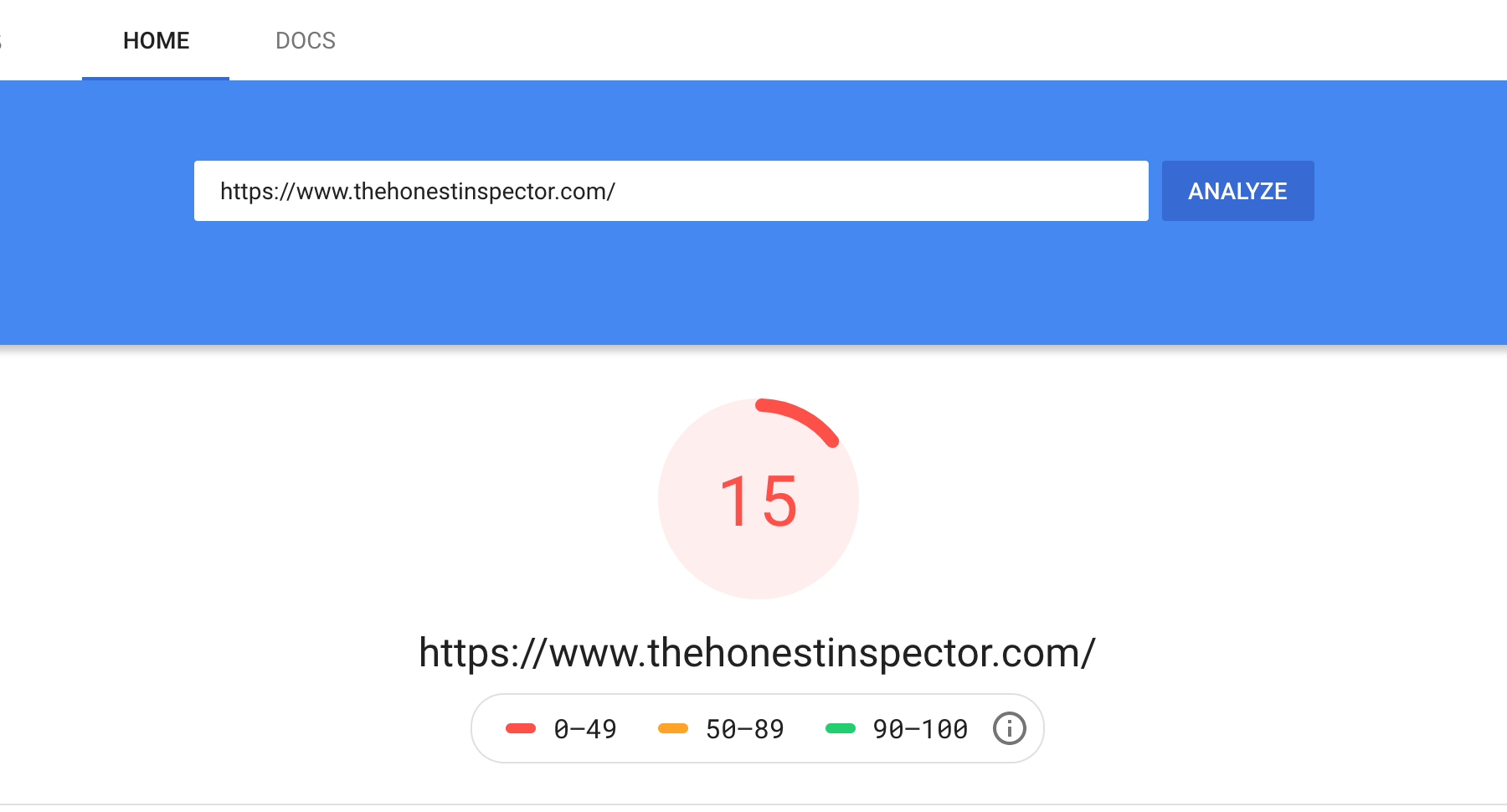 Optimize Your Website for Mobile
As more people utilize their mobile devices to do business, you need to make sure that your SEO optimization is keeping up with them. Using Accelerated Mobile Page for caching, compression, render blocking, round trip requests, and lazy-loading will help you optimize your page speed. If you don't want to worry about the technical details, use a mobile optimized template when you create your website, and you should be good to go.
LINK BUILDING
Inbound links, also known as "backlinks," are connections from someone else's page to yours. Google considers these votes of confidence, so acquiring backlinks on your website is an integral part of SEO optimization.
Having a large number of quality backlinks leads to better rankings and to more organic traffic to your website. There are many ways to encourage and garner backlinks. Here are some of the most popular ways to do this.
Getting listed in directories will not only give you a backlink but will also get your name out into the business world for a win/win situation.
Use your active social media accounts to link to your home inspection website.
Sponsor events or other fun activities, even if they are online, to drive traffic and place backlinks to your site.
Comment on blogs and forums that are relevant to your business and that put you in a good light.
Reach out to your peers online, so that you can create a variety of links.
Try to become a guest blogger on other sites, so you can share your expertise, get your name out there, and have another backlink to link to.
Look at your competitors to try to mimic how they have created their backlink profile. Many people start here because it is an easy way to understand how backlinks work.
LOCAL SEARCH OPTIMIZATION
Google has several ways that home inspection companies can help themselves rank higher and drive traffic to their websites. One of them is Google Business Listings that can get your home inspection business to the top of the first page even if you don't have a website.
Google Business Listing also gives you an authority link that can help you rank higher. Use Google My Business to set up your Google Business Listing to help people in your area find you easily and have access to your website, your information, and your business story.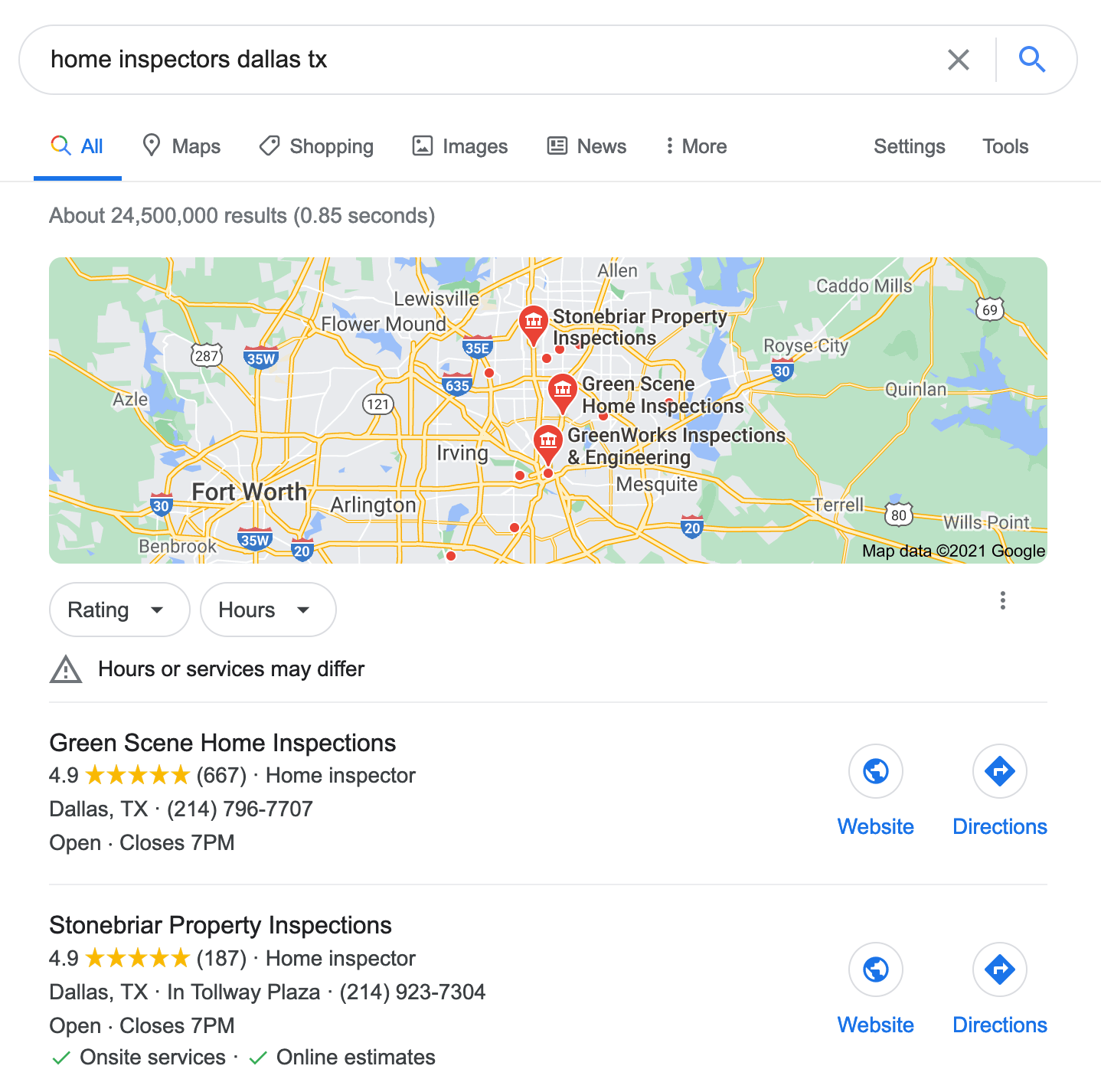 CONCLUSION
In conclusion, SEO will net you results, but it is not a speedy process. It can take a good 6-12 months for you to see the fruits of your efforts. In the meantime, broaden your marketing strategies to include PPC Advertising and one year builder's home warranty direct mail program in order to get some leads fast.
As the old saying goes, don't put all your eggs in one basket. While you wait for the SEO optimization to be integrated into your site and for your home inspection business to drive organic traffic to your site, you can still bring in new business. And getting new customers is what it's all about!